Boston finishes #7 after a hard-fought tournament. Our love to the WFTDA and hosts Cherry City Derby Girls, and mad respect for opponents Rat City, Chicago Outfit, Toronto, and Sacred City. We'll see you next year—faster, better, stronger.
Boston v Rat: 212-205 Rat (Watch the archive!)
Boston v Chicago: 373-179 Boston (Watch the archive!)
Boston v Toronto: 204-198 Toronto
Boston v Sacred: 317-158 Boston (Watch the archive!)
—
As one of the top 40 leagues in the world, we're heading to Salem, OR for one of the 2013 WFTDA roller derby playoffs. Hosted by the Cherry City Derby Girls, the Salem tournament pits your #23 Boston against #12 Rat City in the first round on Friday, September 27. Other teams attending the tournament include the #4 B.ay A.rea D.erby Girls, #7 Atlanta Rollergirls, #15 Detroit Derby Girls, #20 Charm City Roller Girls, #28 Sacred City Derby Girls, #31 Victorian Roller Derby League, #36 The Chicago Outfit, and #39 Toronto Roller Derby.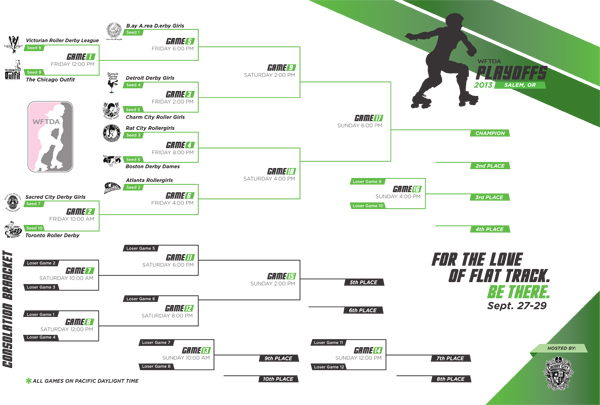 Visit WFTDA's site to see bracket information, tickets, and more. Live in Oregon and want to cheer us to victory? Come on down! You can also catch all the action on WFTDA.tv this fall.
Viewing Parties
Local fans, you can watch our first game against Rat City by heading down to the Elks Lodge in Cambridge, MA!
WHEN: Friday, September 27th, 8PM – 2AM
WHERE: Massasoit Elks Lodge, 55 Bishop Allen Dr. Cambridge, MA
COST: FREE, thanks to our awesome sponsor, PBR! Just make sure to buy some beer and tip your servers.
MORE INFO: https://www.facebook.com/events/207185226123237/
2013 WFTDA Playoffs — Salem, OR